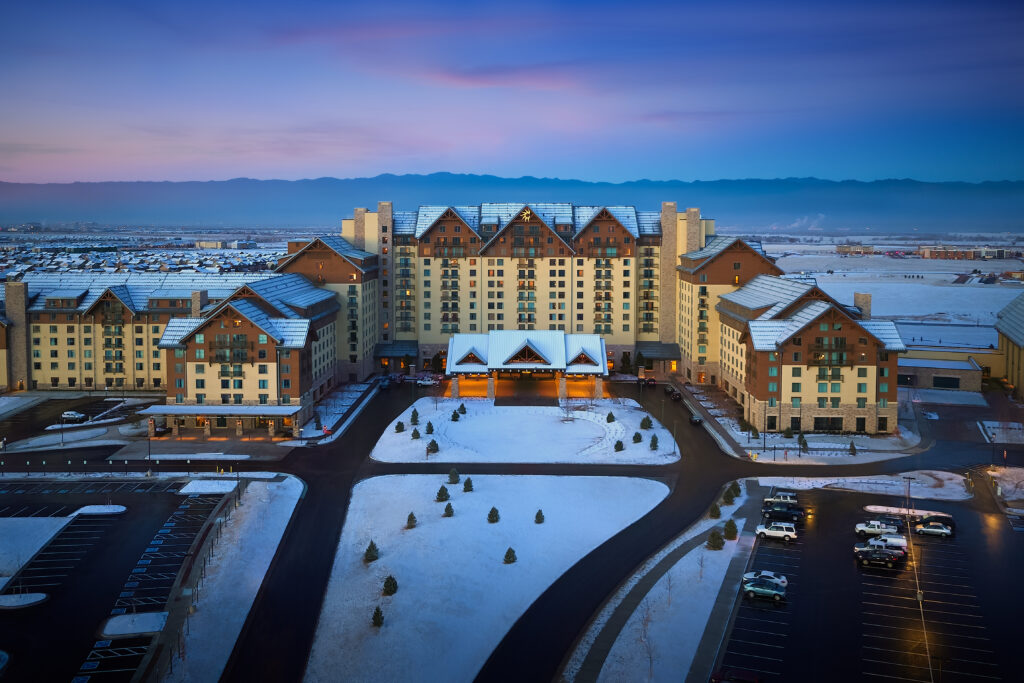 Sitting just on the edge of Denver, the Gaylord Rockies Resort & Convention Center showcases the state's alpine charm and offers a welcome reprieve from the typical mountain resort stay. From the thrilling Arapahoe Springs Water Park, to an exciting lineup of entertainment and unique dining experiences, explore the beautiful Grand Lodge and its stunning mountain views, five delicious restaurants, bars, the world-class Relâche Spa, and a state-of-the-art fitness center. With a fantastic water park, seasonal events, entertainment, and close proximity to local attractions, Gaylord Rockies Resort offers an experience for you to enjoy yourself during your time for the OR Manager Conference .
Things To Do at the Gaylord Rockies Resort & Convention Center
Enjoy your 'Education Vacation' this October and escape to this mountain getaway with breathtaking views during your week for the OR Manager Conference.
Need help getting travel approved? Download the Employee Justification Guide, including a ready-made letter to your manager.
Your Dining Guide
American
Indulge in a casual menu featuring burgers, sandwiches, salads and draft beer. Catch a game on the 75-foot flat-panel TV, cheer on your favorite team, and then stay for dinner.
Sat-Sun: 10:00 AM-12:00 AM
Mon-Fri: 11:00 AM-12:00 AM
+1 720-574-1470
Italian
Start your day with a traditional breakfast buffet or transport yourself to Italy for an unforgettable dinner experience featuring seasonally-inspired Italian cuisine. Limited Hours of Operation.
+1 720-574-1481
Open for breakfast and dinner

Rockies Marketplace
American
Don't have time for sit-down restaurant? Before heading out into Aurora, visit our grab-and-go marketplace offering chef-crafted entrees, fresh fruit and alternative snacks.
Open for breakfast, lunch and dinner
American
Located next to the resort pool, our outdoor restaurant keeps you cool on a hot Aurora day with an assortment of frozen drinks and cocktails. Satisfy your appetite with our delectable dinner menu that includes burgers, wraps, salads and sweet treats.
Other
A hot spot to gather for an eclectic-inspired cocktail or handcrafted drink in the Grand Lodge.
Open for Dinner
Steakhouse
Join us for a memorable dinner as you dine in the luxurious atmosphere of Old Hickory Steakhouse, offering the highest quality beef, fresh seafood, artisanal cheeses, table-side desserts and fine wines.
Open for Dinner
Asian
TAKE OUT ONLY. Monte Jade Express offers a variety of Asian-inspired dishes via take out service on the weekends.
+1 720-574-1479
Open for Dinner

The Cocoa Bean
Coffee House
Proudly serving Starbucks® coffee. Choose from premium coffee drinks, fresh bakery items, and gourmet sandwiches.
Mexican
Located in the Grand Lodge, Ski Village Cantina offers a walk-up window for takeout Mexican-inspired dishes. Ski Village Cantina features tacos, quesadillas, Mexican corn and chips & salsa, as well as churros to satisfy your sweet tooth.
Friday – 5:00pm – 9:00pm
Saturday – 5:00pm – 9:00pm